Spin Page • Video Order Form • Publicity/Press • Screenings
Behind The Scenes • Soundtrack • Spin Bio • Thank You's • Film Trailer
One of the most important -- and too often overlooked -- aspects of film and video storytelling is the music playing in the foreground, background, and every place in between. I was fortunate enough not only to obtain an original song by Southern California grrrl rocker, Sue Willett, but I also worked with a dedicated team of people under composer Jeanine Cowen in order to create a musical voice to match my vision. This page celebrates the sounds of Sandy 'Spin' Slade: Beyond Basketball.
I Can Fly
written and performed by Sue Willett, BMI
© 2000 All Rights Reserved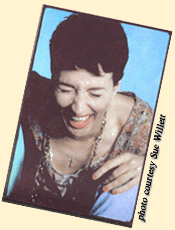 Piles of CDs pour into a director's office when a production is listed in places like The Hollywood Reporter and The Music Report. I received some music completely wrong for the project, some music with unique enough qualities to be considered for future projects, and one song that was so perfect for the film, it jumped from the speakers.
I Can Fly (written and performed by Sue Willett) is an anthem in every sense of the word. Written as a tribute to the success new women's professional sports teams, I Can Fly had the power of the music and the truth of the lyrics destined to become a theme song for Sandy 'Spin' Slade. It was worth listening to all the CDs submitted to stumble upon this ideal match for the Spinumentary™.
Sandy 'Spin' Slade: Beyond Basketball marks the debut of Sue Willett's roof-raisin' CD single, I Can Fly. Some of Sue's other songs have been heard on "Buffy The Vampire Slayer" and "Law & Order."
The Score
all music by Jeanine Cowen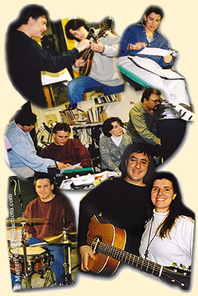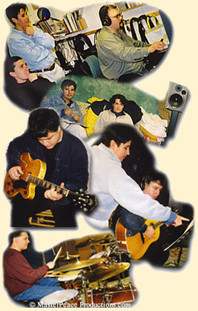 1.Hoopla
2.Without A Net
3.Spinning
4.Behind The Scenes
5.Her Own Category
6.St. Croix
7.Bones
8.Raffle
9. Basketballs
10.Fresno State
11.Glamorous Life
12.Autographs
13.Pudding Cups
14.Oops To Hoops
15.Can Boys Do That?
16.Beyond Basketball
17.Spin Future
18.Spin Credits

The Players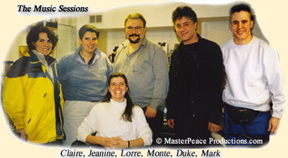 I knew Jeanine Cowen was destined to be my Composer not only because of her great attitude and our instant rapport, but because of the small-world fact that she attended the middle school that happened to be listed in my Spin press kit! Jeanine heard what I wanted emotionally from the music, how passionately I believe the music should be the voice when the voices are silent. She delivered a warm and energetic score to complement this story. But writing it was only the beginning. Next she brought in a team of talents who hail from the Boston area but whose experience has traveled the world. Each person added his and her own personality to create this rich and layered musical dialogue.
| | |
| --- | --- |
| | |
| A long way now from Bettendorf, Iowa, Jeanine Cowen is a Boston-based composer whose musical experience ranges from independent short films, live orchestral conducting, and PBS documentaries like Iditarod to scoring features like Home Before Dark. Visit her at JMC Music Inc.. | Monte McGuire lives for perfect audio, and played the role of Sound Engineer for both the music recording sessions and the film audio mixing itself. So the reason the Spinumentary™ music sounds so crisp and the documentary dialogue sounds so clear is because of Monte's talent and commitment to hearing and tweaking the little things. |
| | |
| Veteran session musician and drum instructor, Mark Kohler worked with Jeanine on previous musical adventures before bringing the beat to Sandy 'Spin' Slade: Beyond Basketball. Playing in his stocking feet must really work for Mark because he handled Jeanine's octopus drum demands with much finesse. | A Berklee College of Music alum like Jeanine, Claire Harding's varied background includes leading a rock band, scoring several documentaries and providing music supervision for indie features like All The Rage and Could Be Worse!. Claire was not only Jeanine's right-hand woman during recording, but she also played MIDI bass on several songs. |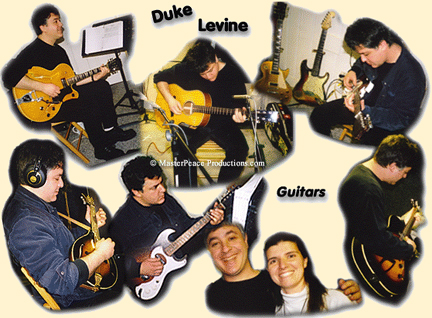 I am fortunate to have had the gifted Duke Levine provide "The Voice" of the Spinumentary™, with his mandola and acoustic, electric and slide guitars. In addition to various soundtracks and scores, The Duke has offered his soulful strums to such great musical storytellers as Jonatha Brooke, Carol Noonan, Catie Curtis, John Gorka and Mary Chapin Carpenter, so Duke is no stranger to playing spirited music with powerful stories. You can listen to audio samples of his amazing work at Duke Levine.com and if you can't find a copy of his CD Lava it's because I bought them all for myself. Undoubtedly, Duke played Jeanine's notes with style, but it is his talent for finding the music between the notes that I will always be grateful for.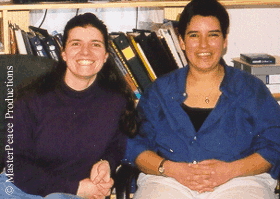 NOTES ON THE NOTES
Jeanine understood me when I said just because this is a documentary doesn't mean I want it to sound like a newscast. I wanted the emotion and underscoring of Film because that is how this story functions: a person with a little talent and a lot of vision overcomes the odds and has extraordinary impact.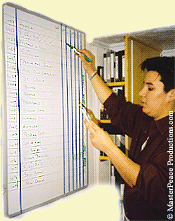 The music should not just complement what's onscreen, but it should bring out the emotions that the director wants the audience to feel. Therefore, Jeanine and I spent much time talking about "what is really happening in this scene" in order to get to the heart of what should be singing along with it.
Not only does the final result move the film along appropriately, but it runs the gamut from arena-size performances to on-the-road loneliness to a smalltown Wisconsin farm to the song of Hope itself.
The power of film can only be made stronger by artists like Jeanine Cowen and her crew, who know how to add the power of music.

CALL FOR MUSIC:
I am always listening for singer-songwriters whose work might contribute to future projects. If you're a musician searching for quirky, off-the-beaten path, slice-of-life indie stories to submit your work to, drop a CD to me and I promise to give it a spin. -- Lorre Fritchy, Director/Producer
Spin Page • Video Order Form • Publicity/Press • Screenings
Behind The Scenes • Soundtrack • Spin Bio • Thank You's • Film Trailer